Victor Valdes spent the best part of his professional football career at La Liga side Barcelona. The Spaniard is regarded as one of the best goalkeepers in the history of the club. Hecame through the famous La Masia Academy at Barcelona before his debut for the first-team in 2002. Valdes played 535 matches for the Barcelona first-team winning 21 major trophies in the process including six Spanish La Liga titles and three UEFA Champions League titles.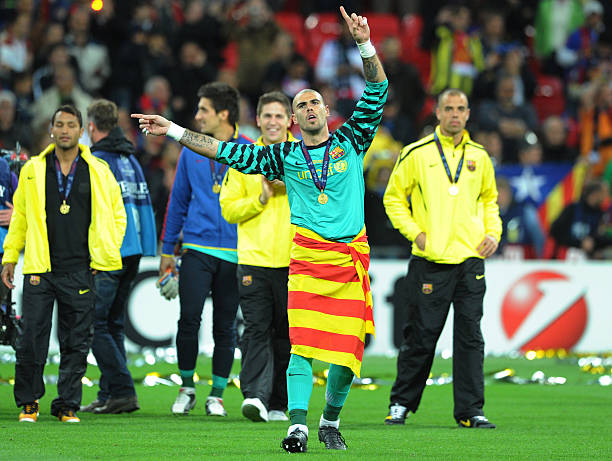 During the 2006 Champions League final in Paris, Victor Valdes showed his quality as he made some crucial stops to help Barcelona come from behind to see off ten-man Arsenal. The Catalans came from behind to beat Arsenal 2-1 at Stade de France. Thanks to the win, Barcelona were able to win their second Champions League title, while Victor Valdes got the first of his Champions League title.
Victor Valdes won the second of his three Champions League titles when Barcelona beat Manchester United 2-0 in Rome in the 2009 Champions League final courtesy the goals from Samuel Eto'o and Lionel Messi either side of the break. It was the third Champions League title for Barcelona. Valdes made it three Champions League titles for himself as part of the Barcelona team that beat Manchester United 3-1 at the Wembley Stadium. It was the fourth Champions League win for Barcelona. The Catalans made it five Champions League titles after the 3-1 win over Juventus in the 2015 Champions League final, but Victor Valdes had already left the club at the time.
Valdes has the most Zamora Trophy wins with five and he's the record holder for the most appearances for a Barcelona goalkeeper both in the league and in all competitions. He moved to Manchester United, Standard Liege and then Middlesbrough before announcing his retirement.