https://pbs.twimg.com/media/E94iFwEXMAUJbGh.jpg
Victor Valdes won a lot of major trophies while he was in goal for Barcelona. The retired Spanish international was an important member of the Barcelona squad for several years.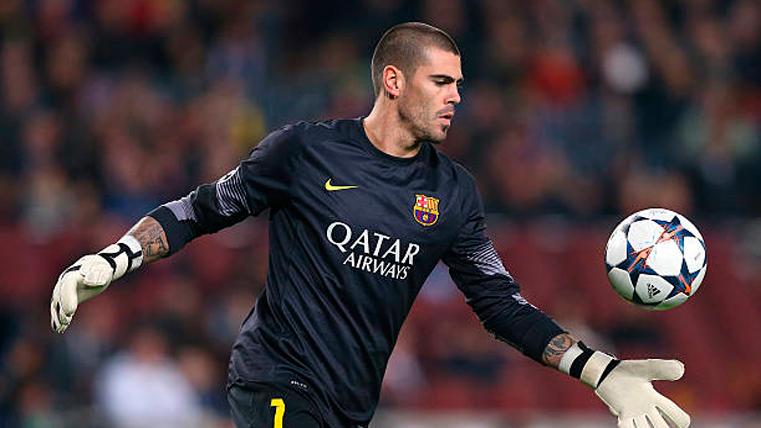 Valdes was able to attain legendary status at Barcelona before he left the club in 2014. The goalkeeper was in the Barcelona first team for over a decade. The 20-cap Spanish international shot stopper came through the famed Barcelona academy known as La Masia before making his debut for the first team in 2002.
Victor Valdes won the first of his 21 major trophies at Barcelona when the Catalans won the Spanish La Liga at the end of the 2004/05 season. In total, Victor Valdes won six league titles at the club.
Barcelona won the Champions League title three times with Valdes in the team. Valdes was in inspired form as he denied Frenchman Thierry Henry on several occasions to help the Catalan giants beat 10-man Arsenal 2-1 in the 2006 Champions League final. Barcelona had to come from a goal down to beat the Gunners thanks to two late goals.
Victor Valdes was also in the Barcelona goal when the club won the Champions League title in both the 2008/09 and 2010/11 seasons. Premier League giants Manchester United were on the receiving end in the final in each of the two aforementioned seasons.
Five-time European champions Barcelona beat Manchester United 2-0 during the 2009 Champions League final in the Italian capital of Rome. Two years later, the two teams met in the final. Valdes and Barcelona triumphed again via a 3-1 win.
Apart from six La Liga titles and three Champions League titles, Valdes also won six Spanish Super Cups with the Catalans. He also won both the FIFA Club World Cup tournament and the UEFA Super Cup on two occasions.
Normal
0
false
false
false
EN-US
X-NONE
X-NONE
/* Style Definitions */
table.MsoNormalTable
{mso-style-name:"Table Normal";
mso-tstyle-rowband-size:0;
mso-tstyle-colband-size:0;
mso-style-noshow:yes;
mso-style-priority:99;
mso-style-qformat:yes;
mso-style-parent:"";
mso-padding-alt:0in 5.4pt 0in 5.4pt;
mso-para-margin-top:0in;
mso-para-margin-right:0in;
mso-para-margin-bottom:8.0pt;
mso-para-margin-left:0in;
line-height:107%;
mso-pagination:widow-orphan;
font-size:11.0pt;
font-family:"Calibri","sans-serif";
mso-ascii-font-family:Calibri;
mso-ascii-theme-font:minor-latin;
mso-fareast-font-family:"Times New Roman";
mso-fareast-theme-font:minor-fareast;
mso-hansi-font-family:Calibri;
mso-hansi-theme-font:minor-latin;}